3. Link up your
blog's home page
-- not a specific link or you will be deleted!
4. Visit at least 2 other blogs and make some friends!
5. Let your friends know by posting this button. The more, the merrier!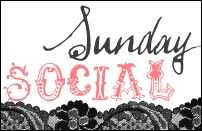 Featured Blog:
Pam from An Artful Mom
Hi all! I'm Pam from

An Artful Mom

, and I'm a mish mosh composite of many things, including a wife, mom to two pretty much grown-up, terrific, kids, and a thankful child of God. I love to read, blog, and do crafty things (especially paper arts and crafts like cardmaking, calligraphy, and art journals), and I'm a preschool teacher and/or art teacher in my heart (only.) I'm also extremely obsessed with photography. I love meeting other bloggers, and blogging has been such a wonderful way to meet a huge variety of people. My blog is an eclectic composite too, so I write about home, food, crafts, pets, DIY, photography-- and a little bit of everything. I hope you'll come by and visit often!
Here are 5 things about me:
1. I have a strange propensity for falling and getting a concussion. (The most memorable of those falls was the time I was carried off in an ambulance from an ice rink with my then 7 and 10 year old kids, all the while saying, "Mom's just fine," while I was actually wondering if I was going to die!)
2. I've become semi obsessed with our little Yorkie, since we adopted her two years ago. (She's really my daughter's dog, but somehow she figured out I'm the mom.)
3. My favorite food is cake. Yes, cake, one of the unhealthiest foods on the planet. I don't eat it often, but when I do, it's bliss.
4. I was on swim team in high school, and (literally) won the award for "funniest looking toes." It was deserved. (I was a really fast swimmer too, though!)
5. My cat can talk. Well, sort of. She does respond when we talk to her (and, I'm not kidding, they are actual words!) She is the best cat, ever.