We could all use a little extra money, right? We like to cut costs and clip coupons. We join point clubs at grocery stores and join online communities to trade penny pinching secrets. Of course we like to do all those things! The standard of living continues to rise and gas is nearing $4.00/gallon...if it hasn't reached it already in your state! That is why I am excited to share with you today the wonderful website of
Kyle Taylor
. Kyle is the creator and author of the well known website,
The Penny Hoarder
.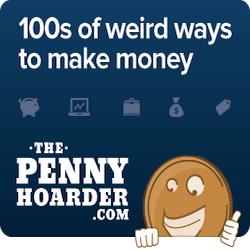 The Penny Hoarder
is an online community dedicated to providing you with 100s of great ways to make extra money! The site's posts include ways to earn and invest your money as well as fabulous giveaways! Speaking of which, The Penny Hoarder is giving away a
free iPad 3
right now! You should definitely head over and check it out!
So, if you are a coupon-clipping-queen or even if you'd like to just make an extra $20 here and there, stop by and visit my wonderful sponsor
The Penny Hoarder
. You can also connect with The Penny Hoarder on
Facebook
,
Twitter
,
Google+
, and through
Email Subscription
. Happy saving!