Hi Friends! So glad that you are interested in advertising with The Kurtz Corner! I love to help promote my sponsors so that they can grow their blog or business! Below are my blog stats and sponsorship options.
Current Blog Stats - Updated 12.27.12:
Average monthly unique visitors: 20,000+
Average monthly pageviews: 35,000+
GFC followers: 1160
RSS feed subscribers: 1283
FB fans: 919
Pinterest followers: 1318
Twitter followers: 398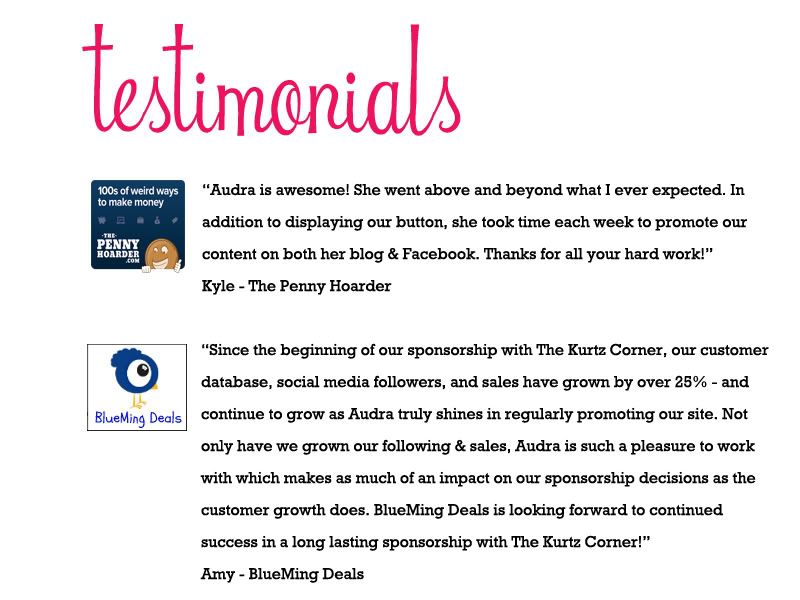 Advertising Options:
*Ads are run on a month to month basis. discounted rates are available for extended month purchases*
Sponsor a Post:
A sponsored post includes your ad in a 125x125 form, posted at the bottom of one of my posts. This form of advertising guarantees you extended exposure as it will remain there forever. Sponsored posts are $10.00 each. Your ad will appear at the bottom of a post and could potentially be listed with other sponsors. If you have a preference of what type of post you'd like to sponsor, i.e. craft, recipe, giveaway, etc. let me know and we will try to work something out!
Giveaways & Product Reviews:
I am always happy to host giveaways and products reviews for my readers free of charge. Please email me with details!
If you are interested in advertising with The Kurtz Corner please contact me by email. Payment will be accepted through paypal and your ad will be posted once payment is received. Please let me know if you have any questions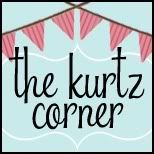 Disclosure:
This policy is valid as of 04 March 2012
This blog is a personal blog written and edited by me. For questions about this blog, please contact me via email.
This blog accepts forms of cash advertising, sponsorship, paid insertions or other forms of compensation.
The compensation received may influence the advertising content, topics or posts made in this blog. That content, advertising space or post may not always be identified as paid or sponsored content.
The owner(s) of this blog is not compensated to provide opinion on products, services, websites and various other topics. The views and opinions expressed on this blog are purely the blog owners. If we claim or appear to be experts on a certain topic or product or service area, we will only endorse products or services that we believe, based on our expertise, are worthy of such endorsement. Any product claim, statistic, quote or other representation about a product or service should be verified with the manufacturer or provider.
This blog does not contain any content which might present a conflict of interest.