Welcome to the Sunday Social, hosted by The Kurtz Corner & The Sasse Life. We are so glad that your are here! Come link up your blogs home page and make some new bloggy friends! While your're here be sure to enter my Uprinting Hang Tag Giveaway!
How to participate:
3. Link up your
blog's home page
-- not a specific link or you will be deleted!
4. Visit at least 2 other blogs and make some friends!
5. Let your friends know by posting this button. The more, the merrier!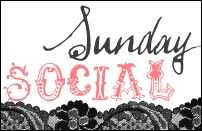 Hi! I'm Emily from 52 Mantels, a blog about all things home including weekly mantel makeovers, easy DIY projects, seasonal crafts and simple recipes! I'm blessed to be the stay-at-home mother to one adorable little girl and the lucky wife to an ever-supportive hubby (who puts up with my endless projects!).
I adore: Winter Parties, Spring flowers, Summer nights and Fall clothing! Throw in a sugar-free vanilla iced coffee and I'm a happy girl!
1) I recently became a full time mom, but before that I worked as a nurse in the neonatal ICU for almost 7 years.
2) I can't go to Target without visiting the Dollar Spot and the Starbucks counter. Target has managed to combine my great loves!
3) I spent a year living in Africa (Southern Sudan) and in that year I white water rafted part of the Nile River. Scary and FUN!
4) Speaking of Africa...I went on safari during an R&R time and one night woke to find a baby hippopotamaus standing by my tent opening, literally touching distance from me! And, I would have touched him if I didn't know how deadly momma hippopotamouses could be!! Yikes!
5) I enjoy going to weekly playgroup probably more than my daughter! The time I get to spend talking to other moms makes me feel refreshed...and, normal!