Hey everyone! Sorry I am a day late, but I was on a mini vacay this past weekend and this is the first time I have had access to a computer! Welcome to the Sunday Monday Social (just this once)! Come link up your blogs home page and make some new bloggy friends!
How to participate:
3. Link up your
blog's home page
-- not a specific link or you will be deleted!
4. Visit at least 2 other blogs and make some friends!
5. Let your friends know by posting this button. The more, the merrier!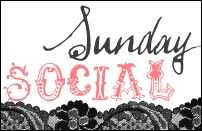 Hi! I am Pamela from Pamela's Heavenly Treats. I am a wife, mother of 6 (5 boys and a baby girl), homeschool teacher and I have a small Healthy Cupcake & Cookie business. Everything that I make is made with 100% Whole Wheat Flour and my secret ingredients. I LOVE to bake and my family loves to test out all my healthy treats. I just opened up an Etsy Shop-Pamela's Heavenly Treats where I make my healthy cupcake and cookie mixes. Come on over to my blog at Pamela's Heavenly Treats where you can get mouthwatering healthy cupcake and cookie recipes and pictures of my treats.
Let's see 5 silly things about me
1. I don't like getting my picture taken, I feel weird don't know why, I am always the one behind the camera.
2. When I eat, I have to eat my veggies and sides before I eat my meat.
3. I always have my hair in a ponytail, when I have my hair down, my kiddies ask me where I am going.
4. I never wear makeup, I have a makeup case but it never gets used.
5. I use the same mug every morning for my coffee, eventhough I have a cabinet full of mugs.
Let's get social!