Welcome to the Sunday Social! I hope you have all had a wonderful Easter! Come link up your blog's home page and make some new friends! Be sure to stop by and visit out featured blog!
3. Link up your
blog's home page
-- not a specific link or you will be deleted!
4. Visit at least 2 other blogs and make some friends!
5. Let your friends know by posting this button. The more, the merrier!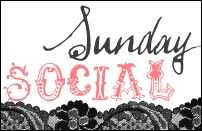 Featured Blog:
Crayon Freckles
i'm a Christian, homeschooling, sahm. i have a teenage heart-daughter who goes to public school and a 3 1/2 year old that i home-preschool. i've been blogging over a year and have loved meeting all the wonderful bloggers that i have on this journey. i also enjoy photography and creating digital and mixed media prints to sell in my etsy shop.
i also have a meet me page at:
http://www.crayonfreckles.com/p/about-me.html

5 silly facts
1. i use plastic silverware at restaurants
2. i eat fruit loops in rainbow order
3. i love chocolate cake covered in milk
4. i can burp the abc's (gross and embarassing, i know)
5.i love to sing and dance wildly with my son (we were doing this one time when the sheriff drove by and he stopped to make sure i was okay!)
Let's Get Social!